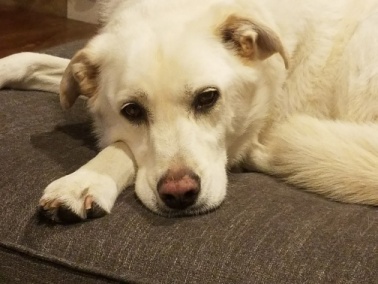 Losing a pet can be devastating.
After spending precious time together, saying goodbye to your best friend is beyond hard. It doesn't matter whether you raised your pet from being a baby or got them later in their life. They have a profound impact on your life.
It may only take a thought, memory, or visual reminder of your pet to get the tears flowing. The grief is fresh, and it will feel this way for a while.
Here are some things you may be feeling:
Guilt
If you have to make the decision to humanely euthanize your animal, my heart goes out to you. It may have spared them suffering and pain, but you still had to make that decision to end their life. It's normal to feel some degree of guilt. You may also be wondering, "Is there something I could have done differently to have prevented a health condition or improved their quality of life?"
Loneliness
Your house will feel empty. It doesn't matter whether there are still other pets living there. You may find yourself calling your late pet's name out of habit, or if you have one of those pets-allowed-on-the-furniture houses you'll probably miss snuggling up on the couch or in the bed together at night.
Sadness
To say you are going to miss your pet terribly doesn't do justice to your sadness. Your heart might physically feel like there is pressure on it. It is hard to accept the fact that you won't ever see them again in this lifetime. Every stray hair/feather/toy you see around the house might remind you of them. Friends, family, and neighbors may also ask you about your pet and stir up that sadness when you must inform them that your pet has passed. If you have chosen to have your pet cremated, receiving their ashes may also bring waves of sadness.
Old
Depending on how long you had your pet, you may reflect on what age you were when you first got them, and it may make you think about your own mortality.
Relief
You might feel relieved that your pet is no longer in pain. If your pet had been dealing with declining health that required extra care from you, it may also be a relief in some sense that you no longer have these extra financial burdens or responsibilities (even though you would probably take them on again in a heartbeat for more time with your pet).
Gratitude
Pets bring so many laughs, snuggles, and smiles and act as a great source of comfort during rough times. When you look past the sense of loss you are feeling, there will likely be gratitude for all the great times you had together.
So how do you move on? What helps is the support of loved ones who understand how truly important your pet was to you and how intricately woven they were into every aspect of your daily life. Their words and gestures will go a long way in helping you to accept the pain of losing your pal. Beyond that, it is just going to take time for the sadness to lose its strength and the happier memories to take hold.
---