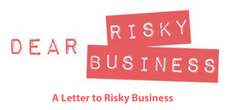 When we engage in risky business for a long time, it can get to a point where it feels like we're in a relationship with the drug of choice or the risky behavior. Our risky behaviors are also accompanied by rituals or habits that we get sucked into. These habits—and the strong feelings connected to them—make it hard to "break up" with the risky business that has become a part of your lifestyle.
Sometimes a good way to "break up" with risky business is to write a letter. This worksheet from Mental Health America's Mental Health Month 2017 Toolkit can help you get started.
How to Use This Tool
If you need help getting started, write about the following things in your letter:
Why you started engaging in the risky behavior
Why you hate it
The troubles it has caused you
How you're going to "leave" (stop or take control of the behavior)
The ways you're going to feel so much better when you've moved on to a healthier lifestyle.
---